C M B V R E G I S T R A T I O N
By the Lord's grace, and the blessings of Pujya Gurudev Swami Chinmayananda and Pujya Guruji Swami Tejomayananda, Chinmaya Bala Vihar, Chinmaya Mission's world-renowned program of spiritual and cultural Vedantic learning for children, remains one of the most exceptional and unique programs to date. Pujya Gurudev conceived and coined "Bala Vihar," and set its structure and syllabus for optimal learning.
The spiritual growth of CMBV students and sevaks is the key focus. Chinmaya Mission's detailed teachers' manuals and exclusive training resources help give CMBV students a systematic and inspiring syllabus each year. All CMBV parents are highly encouraged to participate in the simultaneously held Chinmaya Study Groups, so that they can spiritually grow and unfold with their child.
We welcome all students, of all ages and backgrounds, to our CM Vedantic classes and activities, which promote individual and total spiritual growth through knowledge, devotion, service. We look forward to another year of love, learning, and laughter with you. Hari Om! View Flyer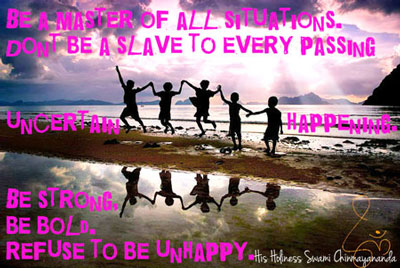 To start Chinmaya Mission classes/activities in your area, e-mail us. For specific questions, contact your local volunteer.

---
CMBV Curriculum
Click on the hyperlinks to see Lesson Samples. See SM and WPB locations for Skype class for high schoolers and university students.
Grade PK-KG: The Alphabet Safari
Grade 1: Bala Ramayana
Grade 2: Superman Hanuman: Hanuman Chalisa
Grade 3: Bala Bhagavatam: Dashavataras of Lord Vishnu
Grade 4: Bala Bhagavatam: Krishna, Krishna Everywhere and My 24 Teachers
Grade 5: Symbolism in Hinduism
Grade 6: India, the Sacred Land
Grade 7: Ramacharitamanasa: Key to Success and PO Box Mr. GOD
Grade 8: Mahabharata: "Yato Dharmah Tato Jayah"
Grade 9: Hindu Culture
Grade 10: Journey to the Truth: Shrimad Bhagavad Gita, Chapters 1-9
Grade 11: Journey to the Truth: Shrimad Bhagavad Gita, Chapters 10-18
Grade 12: Self-Unfoldment

---
How do I register?
1) Review your child's class syllabus for the year:
2) Complete and submit the online CMBV Registration Form, which includes Fees details. Mail your payment as instructed on the Form. Registration is not complete until payment is received.
3) Review these materials online and in your child's CMBV binder:
For specific questions, e-mail us. Hari Om.